Transskription af lyd
Scriber - en service til hurtig transskription af lydoptagelser på 18 sprog, vi konverterer lyd til tekst på 5 minutter.
Få 10 minutter gratis
Kun 3 trin til transskription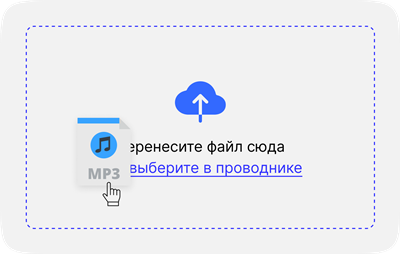 Upload lydfil
i enhver* format og længde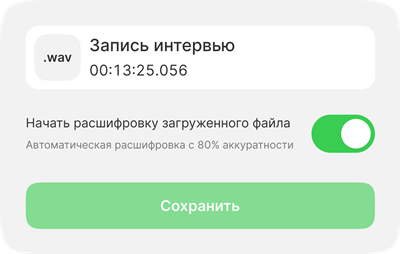 Marker afkrydsningsfeltet
for automatisk transskription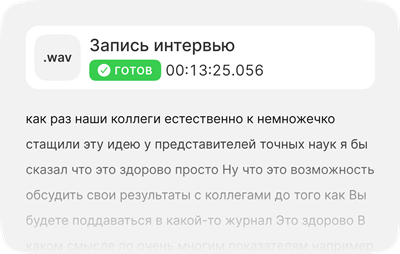 Klar! Teksten kan
redigeres i editoren
Hvorfor Scriber?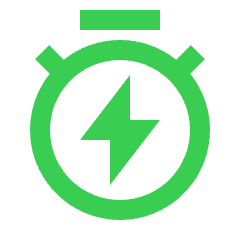 Hurtigt
En lydfil på en time
transskriberes på ~5 minutter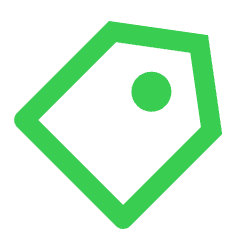 Overkommeligt
En times transskription koster 2500₸.
Billigere ved køb af pakker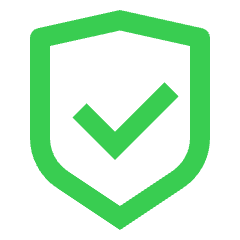 Pålideligt
Ved fravær af støj kan kvaliteten af
transskriptionen nå op på 80%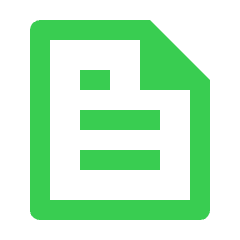 Praktisk
Indbygget afspiller og teksteditor med
genvejstaster
Vi hjælper dig med at arbejde mere effektivt

Journalister
Lange interviews vil ikke længere føre til udskydelse
CX/UX-forskere
Brug mere tid på forskning og lad transskriptionen over for os

Studerende
Husk hovedpointerne i forelæsningerne - bare optag dem

Podcastere
Færdig transskription hjælper dig med at redigere episoder hurtigere
Anmeldelser
Scriber transcribes audio quite accurately, provided the recording is of good quality, meaning without significant background noise and with clear speech. I can easily make such recordings during interviews.
It transcribes quickly, and all that's left is to review and polish the draft. Convenient and fast.
Aisulu T., podcaster.
I enjoy using the service; it's very user-friendly and has all the necessary functionality. I also appreciate the minimalist user interface; it doesn't distract me from my work. The toolbar provides buttons for editing and saving, allowing you to highlight words and create necessary indents. This is undoubtedly a significant advantage because in the flow of a large number of words, it's easy to get confused.
I've been using the service for 2 months now, and the developers are constantly improving the platform, which is great! Plus, the service significantly saves time, which is very valuable in our day and age. Thanks to the authors and developers; they are making a significant contribution to the development and digitization of the industry.
Muhametkali Zhadyra, journalist at Tribune.kz.
I like that Scriber pays attention to even the small details: for example, punctuation marks are added during transcription. Not always with 100% accuracy, but it still saves a lot of time. Especially when the speaker overuses introductory words.
Another example: when you pause in Scriber during transcription and playback, when you resume, the playback doesn't start from the same point – the player smartly rewinds a few seconds back. This is excellent because the chance of losing the context in the text is zero.
I mainly recommend it for two reasons. Firstly, it's much more convenient than transcribing an hour and a half manually. Secondly, I know that the service was created by people who have worked side by side with journalists for many years and took all their wishes into account when developing the transcription software. That's why Scriber is very user-friendly for its customers.
Margarita Bocharova, journalist, editor at Shishkin_like.
The coolest thing, of course, is the ease of use and speed. You probably know that manual transcription takes a lot of time and effort, especially considering that our interviews last for several hours. It's a process that can stretch on for days.
Even if you try existing tools with speech recognition and text conversion (like the dictation mode on a Mac), you need to record audio, and the process will take at least as long as the recording itself. But with Scriber, you don't even need to do that; the transcription happens instantly.
I haven't come across any tools with such a high level of speech recognition accuracy - it's really very close.
Malika Autalipova, AdamdarCA.
I use Scriber for transcribing interviews, comments, and public lectures.
First and foremost, I appreciate the accuracy of speech recognition in both Russian and English. There's no need to stop improving this function because Scriber delivers the best results among all the services I've used throughout my career. Speaking of English speech, the service sometimes manages to capture even complex accents that I, myself, might struggle to understand. Secondly, the service has a very user-friendly interface and, equally important, an auto-save feature.
It would also be great to integrate a function for restoring backups made at different points in time.
Dmitry Mazorenko, editor at Vlast.kz
Priser
1 Час
2 500 ₸
Pris for 1 time
5 timer
11 500 ₸
12 500 ₸
10 timer
21 000 ₸
25 000 ₸
Antal timer, du har brug for